I'm not one to quote (or even listen to) Katy Perry, but her "adage" of "you're up then you're down" is quite applicable to the rank fluctuations seen on the Google SERP in the recent past. There was some downright bizarre movement on the SERP in August… on multiple occasions… so I'll dive into that! 
There have also been changes to how Google extends 'Search Journeys' (and how Google promotes its own shopping experience), the schema supported by Google, scroll to text highlights, etc. So I'll be diving into that as well! 
This is the September 2020 edition of the SERP News! 
Quick Bursts of Rank Volatility Dominate the SERP 
Google updates are not an uncommon phenomenon. Your typical month sees about two instances of serious increases in rank volatility. So while confirmed core updates are pretty much a quarterly phenomenon (in general), unconfirmed updates happen all of the time. So why are the two updates that hit the SERP in August so special? Well, for starters, they were pretty serious, showing levels of volatility at certain moments that we don't typically see with your run-of-the-mill unconfirmed update. 


The Rank Risk Index showing two sets of increased rank volatility circa mid-August 
The first significant update during August almost caused SEOs to have a total meltdown. On August 10th, there was a sudden increase in rank volatility. More than just an increase, SEOs the world over were reporting that a lot of their rankings were being totally wiped out. That sort of total obliteration is not par for the course, it's not how updates usually impact rankings.                                     

 

Simply, something seemed amiss here. And indeed something was. By August 11th, folks were already seeing a strong reversal. As the day progressed, Google came out and confirmed the "update" as being a glitch! What was the glitch exactly? Not sure, Google didn't really offer much by way of details but did say the issue was related to indexing. 
Just a few short days later, there was another massive set of ranking movements. Due to the proximity of the two updates, some suspected that this too was a "bug" especially considering how significant the rank fluctuations were (they were off the chart). However, the August 15th update was not a bug. It was a quick update and a quick reversal. 
As massive as the ranking gains/losses were, they were immediately reversed (as a whole). 
Dived into the recent algo update….. seeing a lot of immediate reversals… Looks like Google was testing something (only looked at about 3 dozen keywords….hey I'm vacation!)

Cc @glenngabe pic.twitter.com/DQQfwQiU4x

— Mordy Oberstein (@MordyOberstein) August 16, 2020
All-in-all, bug or no bug, this sort of massive movement followed by an immediate reversal… is a bit odd. To me, it almost feels like Google was testing something specific. That is, they tested whatever it was they wanted to test and then immediately returned the SERP to its previous state. That makes me think there is a big update on the way and before making that update the search engine wanted to see the impact of a specific alteration to the algorithm. 
==> Check out our guide to Rank Fluctuations
The SERP Roundup Covering August 2020 
August gave us some really interesting updates to the SERP along with a few tests of what might be coming down the pike. From upgraded 'Activity Cards' to Tik Tok carousels, here's what Google changed on the SERP over the course of August 2020. 
Local Listings Hit Autocomplete as the Local Panel Sees Updates
Let's start with a few changes to the world of 'local' on the SERP as Google made a few changes that impact the Local Knowledge Panel as local listings enter autocomplete. 
Local Listings Now Appear In Google's Autocomplete
I'm a little surprised this did not get massive attention from the industry. Towards the end of August, it was discovered that Google had inserted local listings into autocomplete. Searchers running a local query may now see a specific listing in the autocomplete suggestions Google offers.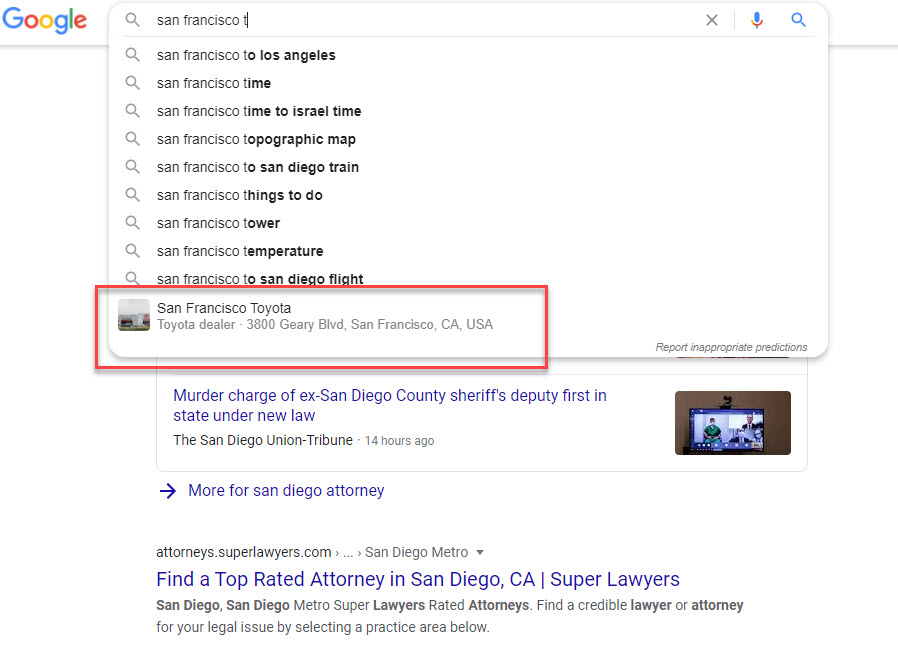 A local car dealer showing within the autocomplete results
This can actually be a big deal as it circumvents the Local Pack. That is, it is now possible that the user will never see your listing in a Local Pack. Instead, they may see a business listing appear in the autocomplete and opt to view that listing before they ever execute the query. If the query is not executed, then the Local Pack that you might rank in won't appear. 
How do you get your listing to be the listing Google shows in autocomplete? Good question. 
[As an aside, and since we're on the topic of autocomplete, Google was seen testing 'Related Search' options within the autocomplete as well.]
Call Button Enters Desktop Local Panel 
Here's an interesting one, Google has thrown the 'Call' button into the desktop version of the Local Knowledge Panel. The obvious question is, how does this work being the last time I checked you can't make a phone call from a desktop computer? Well, Google offers you options. Clicking on the call button here brings up an option to send the business listing's phone number to your connected cell phone (i.e., the phone that is part of your Google account) or to open Facetime! 
Like I said, it's pretty interesting. 
New Map Added to the Local Panel 
The desktop Local Panel typically displays a map within the images that show at the top of the panel. For some reason, Google also seems to think users want to see a second 'map instance.' A lot of folks have been seeing Google show an independent map display towards the bottom of the Local Panel on desktop.
Yeah this is what I surfaced earlier pic.twitter.com/IqsfLCsLqk

— Krystal Taing (@krystal_taing) August 13, 2020
I'm not really sure why there needs to be a second map instance. Also, the map has no 'heading' above it and just sort of sits there floating in the ether that is the Knowledge Panel. That said, it looks to me like Google may have pulled this back. 
Google's Activity Cards Get a Significant Upgrade 
Way back in early 2019, Google unveiled a way to pick up where you left off with what are known as Activity Cards. Imagine you were researching a pair of new shoes. With the cards you can easily reopen pages you looked at in a previous session or even see what searches you already ran on your quest for a new pair of kicks. 
Now, however, Google is using the cards to do more than help you pick up where you left off. An upgrade to the cards now gives them the power to offer you a product carousel related to a previous search as well as recipes related to recent activity along with job listings as well.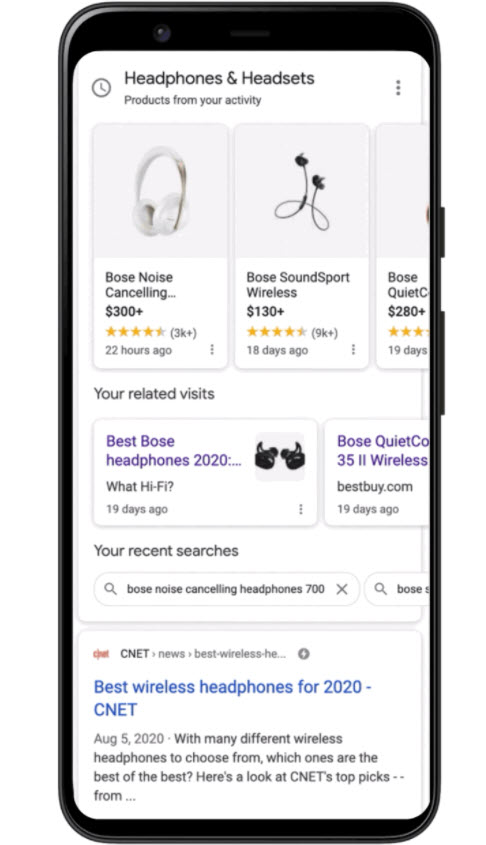 Activity Cards now produce a carousel of products related to previous searches (Image Source: Google Blog) 

Jobs and recipes notwithstanding, to me this is all about products. As I've been harping about ever since Google opened up Google Shopping to organic listings, the search engine has to find a way to move users from the main SERP to its shopping experience or run the risk of its open listing policy becoming irrelevant. 
Throwing a carousel of products at you based on your recent search activity is a way for Google to nudge you towards its shopping platform. It's another way for Google to be able to place products in front of the user on the main SERP so that the user can access the 'Google shopping experience' without having to click on the Shopping tab specifically. 
PLA Images Changing with Hover 
Speaking of products, Google is testing a way to make its PLAs a bit more comprehensive by changing the image used in a given card upon being hovered over. I, as I imagine many shoppers do, take a hard look at the various images retailers offer before making an online purchase. The hover option being tested does just that right on the SERP. This, of course, makes having multiple high-quality images of your product even more important as they would now be part of the 'click' process and not just the conversion process. 
A PLA card moving through a series of images upon being hovered over 

Google's Home-Based Activity Feature 
Appropriate for the times, Google is running a feature that allows you to identify content that speaks to activities you can do at home (i.e., fitness activities you can do from home). When running a given search, Google may offer you video content, upcoming live streams, etc. related to the query in the context of it being done at home. Currently, Google says they are only presenting these options for fitness-related queries. The inclusion of home-related content is made possible by implementing the Home Activities schema markup.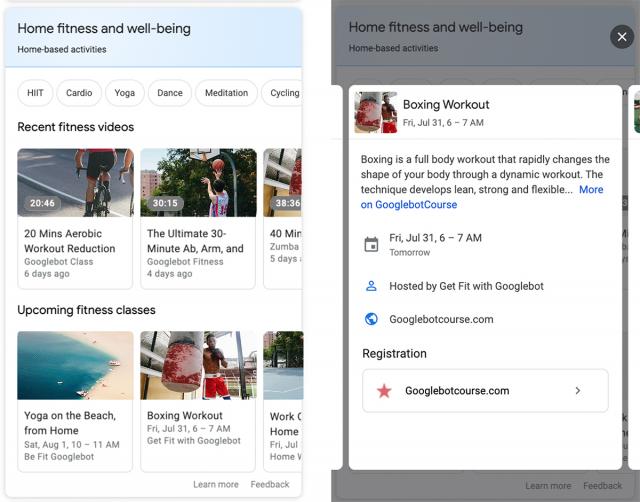 Google's new 'Home-based activities' feature (Image Source: SERoundtable.com) 
People Cards Come to the SERP 
Most folks don't have their own Wikipedia page which makes triggering a Knowledge Panel in these cases quite a difficulty. However, that all may be a thing of the past. Google has rolled out the ability to create a personal knowledge card on the Indian SERP. Folks, once logged into Google, can opt to create a panel that would appear when a query for their name is run. The card currently allows users to share their occupations, social profiles, etc. 
Just in:- Google launched "People Cards" in India which is kind of a personal virtual visiting cards.

Also, looks like a Jr. Knowledge Graph😬

Hey @rustybrick, you know about this & Is it in US too? pic.twitter.com/cxhE8cN8xe

— Tanüj Sangal (@Tanuj_Sangal_) August 11, 2020
I can't see Google not going global with these cards. It seems to me that Google is aware that it is very adept at picking up distinct entities and creating a Knowledge Panel for them but lacks when the entity is not as well known. Google, in its quest to create the ultimate Knowledge Graph, hits a wall once the entity lacks distinct sources (i.e., Wikipedia). To extend the Knowledge Graph, Google is turning to user input. By doing as such it can continue to make new connections. For example, imagine two employees from the same company list their employer in the new People Cards. Google can then gain further insight into that company, and beyond. 
People Also Ask to the Right of the Organic Results 
For the past month or so I've been stuck in a test that has the People Also Ask (PAA) box appear to the right of the organic results. 
Well, we saw People Also Search For to the right of the results, now I'm seeing People Also Ask being tested outside of the main results column!

cc: @rustybrick #SEO pic.twitter.com/I0eGner8xS

— Mordy Oberstein (@MordyOberstein) August 11, 2020
To me, having the PAA box here is a bit of a double-edged sword. On the one hand, having the box taken out of the main results column opens the SERP to additional organic results (as there is more space for them). On the other hand, seeing the PAA box appear independently makes the feature far more noticeable and thereby clickable. 
Scroll to Page Highlights from the Image SERP 
The scroll to text functionality (which includes text highlights) seen for some Featured Snippets has expanded to pages accessed via the Image SERP. It's entirely bizarre as text highlights only make sense when the text highlighted corresponds to the query. When moving to a page via an image, what's to say which snippet of text should be highlighted? I don't get it. 
The Multiple Carousel News Box Makes a Desktop Appearance 
Google has been running multiple carousel News Boxes on mobile for some time now. The multi-carousel format is an interesting way to try to offer a well-rounded take on a news topic. Sometimes it works and sometimes the format is slightly off in the way it segments news topics. All-in-all, it is a very interesting feature that speaks to what Google can do when it comes to identifying topical relations.
The one consistent segment used in the multi-carousel News Box is the Also in the news carousel. As opposed to other carousels, this one is not a reflection of a sub-topic related to the news topics but is a collection of related content overall. It appears in every instance of the multi-carousel News Box on mobile.
The Also in the news carousel is now being tested on desktop. This comes as Google tested a second link within news cards last month meant to offer context to a news topic. The moral of the story is that Google wants to offer a more eclectic news experience and at some point in the relatively near future the news experience on the SERP will be dramatically different (in this author's opinion). 
Google search, Top stories+also in the news, is this new?@rustybrick pic.twitter.com/j8is2b5IqL

— robin xing (@robin_xing) August 3, 2020
Google Adds Tik Tok Video Carousel to the SERP 
Tik Tok has made its way to the SERP in an all-new way with video carousels. Some Tik Tok profiles (represented as organic results) are now appearing with an accompanying video carousel. The carousel contains a series of clips created by the profile represented in the organic result. My life is now complete. 
Auto-Play Video Slider Spotted on the SERP 
Who doesn't love watching movie trailers? Who doesn't like watching silent previews of one trailer after the next as the day withers away into nothingness? Well, now you can right from the SERP! 
Mobile Knowledge Panels for movies often contain video trailers. Now the SERP is automatically running a short preview of the multiple trailers shown in succession. In other words, when the silent preview of one trailer is done, the next video shown automatically starts its silent preview.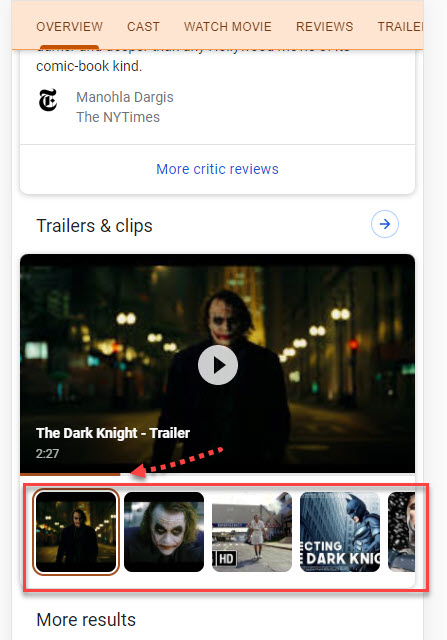 A movie trailer running through an auto-preview as a part of a set of automatically loading trailer previews
See Where to Watch Sports on the SERP 
Google's 'Sports Box' is a prolific feature that contains everything from team standings to schedules and beyond. Now Google is using the SERP feature to help sports fans see where they can watch a given game. For example, when Googling a Major League Baseball team, Google will show you the upcoming games with each game's 'card' indicating the available watching options. These options include TV scheduling and available streaming options.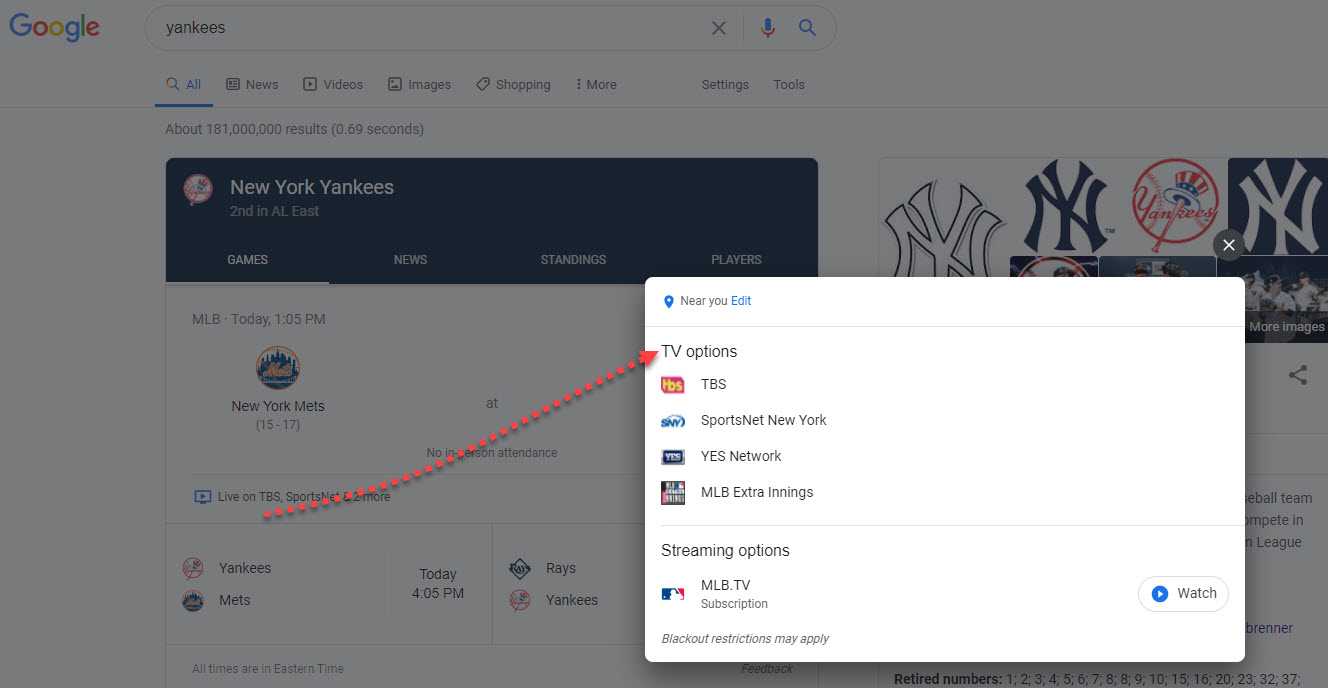 Google showing places to watch live sports events via the Sports Answer Box 
Tell Google If You Are Feeling an Earthquake 
Last, but not least, Google is asking users if they're currently experiencing an earthquake. If you are in an area that is undergoing an earthquake, Google may ask if you just felt shaking. The feature was spotted when someone who was experiencing an earthquake searched for 'earthquake now.' Personally, if I ever felt my house shake the last thing I would be doing is Googling 'earthquake now,' but that's just me (though I guess it's better than searching 'earthquake now? run now?').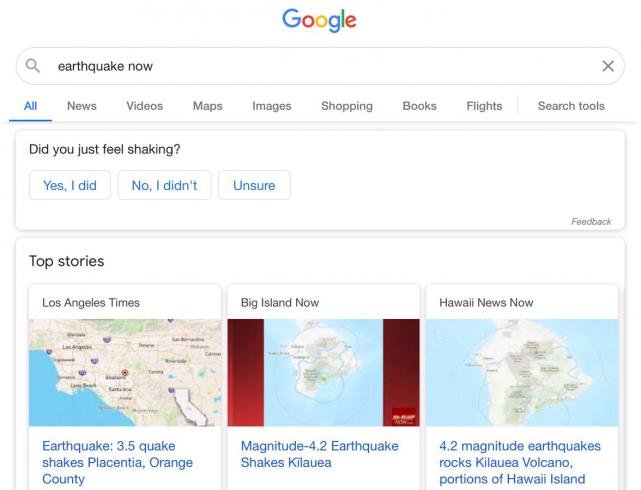 A Google feature asking the user for input around experiencing an earthquake (Image Source: SERoundtable.com)
I assume Google is using the info inputted to help determine the overall radius of a given quake.  
A Layered and More Complex SERP 
Every once in a while, I like to take stock of the SERP and see where we stand. Looking back on the month and the SERP we saw, I think we live in a more layered and more complex SERP. This is not a new paradigm per se, but I do think we've reached a new layer of complexity. Take local listings in the autocorrect as an example. How does Google choose that one listing for a location? How does that impact Local Pack performance (as again, a listing in the autocorrect can bypass the Local Pack altogether)? Or take multiple image PLAs via the hover. The implementation of multiple product images now becomes a click issue. If users don't like or don't see multiple images on the hover, will they still click? To what extent do you need to think about how an image appears within a tiny PLA card versus how that same image appears on your product page per se? 
It's complicated. It's complicated because the SERP offers layers of access to sites, listings, products, images, etc. The SERP is more layered and therefore more complex than ever!